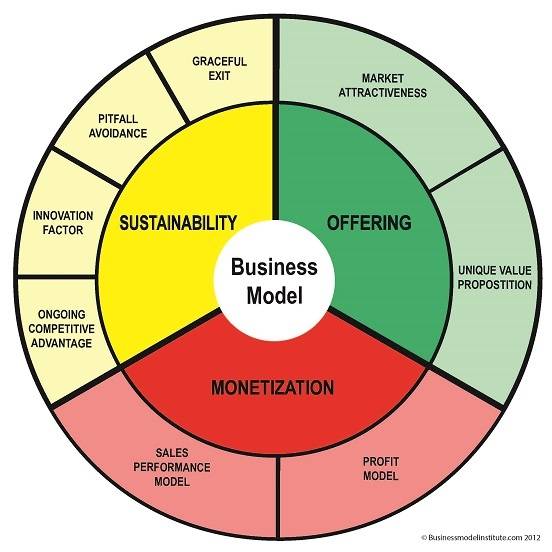 Great question! If only I'd asked this 7 years ago when I started my online journey.
Now though after going deeply into this over time (researching things fascinates me), I'd have to tell you that the BEST business model is the one YOU design around a number of things that are unique to YOUR wants, needs and desires.
It might sound odd but I work BACKWARDS to design my business models. I use the same latest TOOLS to build the machine behind each of my businesses (but am always researching new tools so these can change but only if they save me time AND do a better job).
It's HOW & when you use the tools that create the differing mechanics.
The Business Models differ in terns of things such as number of hours of my OWN time to be invested. How much interaction with others I want in this model. How much income and how often. There's a bunch of things on the list that help me to determine the best business model.
The mistake people often make is looking at someone ELSE'S business model from the OUTSIDE (which is like window shopping outside of a huge department store and thinking you get what they sell inside. It's only the merchandise they show you to BRING YOU INSIDE though! You don't get to see the dozens of people in the office. I think you get the picture :)
So then they go off and try to emulate it. Some "experts" even offer you their "template" but those templates are once again going to mislead you because they're SIMPLIFIED to draw you in.
No one would be tempted by a complicated drawing. It's overwhelming. So grabbing this & that via free offers etc is a HUGE trap for newbies who often are doing things on a meagre budget.
So without writing a whole book here my best advice would be to work backwards step by step from your BIG VISION. That's a great start. Grab a huge piece of paper and start at the end - mapping out what YOU want from your business. It's quite a journey of you do it well and at the end comes complete CLARITY.
You know what drives you. What your end payoff HAS to be (because if you hate what you need to do to GET there you'll fail, you'll quit, or you'll be exhausted.
I'm teaching this in my Academy which will be launched soon. It's one of my favourite modules, because THIS is one of the biggest problem areas of all solo-Preneurs. I struggled with it and spent a large amount of money on my own training in order to not only get the big picture but to actually feel confident enough in my knowledge and thinking to challenge what I'd learned and to take it to a better place for others.
Whatever you decide, I wish you the best of luck and good fortune :)